As its name shows,
the Norwegian Forest Cat is said to have its origin in Norwegian woods.
Living in severe circumstances such as the winters of Norway
gave it a robust aspect.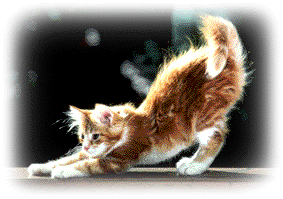 Their wild looks really attract us.
The stout big body,
the gorgeous thick coat
and the long bushy tail!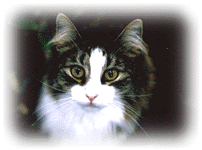 But they're not so wild in their character.
They love and trust people.
It seems that they enjoy living with us.

If you call their names, they will answer and come to you!
And at night, you will find them sleeping contentedly in your bed.

Also, they love playing with people.
Throw a toy ball, and they will run to catch it and bring it to you.

Of course they like taking a walk.
Like all the cats do so, they love playing in nature.
Smelling of flowers, watching birds and insects...
But they don't mind to be harnessed when it is necessary.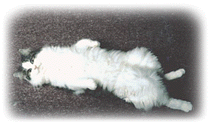 In the Norse mythology, they appear as huge cats that draw a chariot of Freyja.
Actually, they are not so big as Maine Coon or Ragdoll whose origin is U.S.A.
Male: about 4.5kg 〜 7kg
Female: about 3 〜 5.5kg.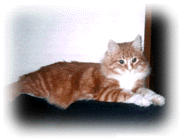 Though they have such gorgeous thick coat, you don't have to comb so often.
It comes off on itself in summer.
And also in the winter season when it is really thick,
with moderate oil, it is kept clean by themselves.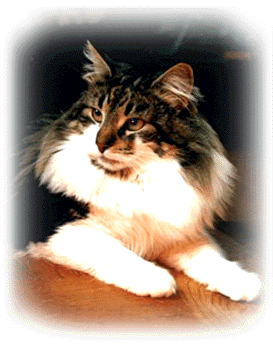 Once they had decreased even in Norway.
But thanks to the efforts of breeders in Norway,
now a lot of Norwegian Forest Cats are living in many countries.
Because of their lovable character, they are loved by many many people.

Why don't you live with them?
They're frank and nice.
And above all, they're so cute!
---

---