Thank you for having a interest for NORWEGIAN FOREST CAT!
Did you enjoy our web site?
If you like NORWEGIAN FOREST CAT, we're so happy!

NORWEGIAN FOREST CAT is not so popular yet though they're really cute.
We open this web site for we want many people to know about them.

And we're waiting for your E-mail!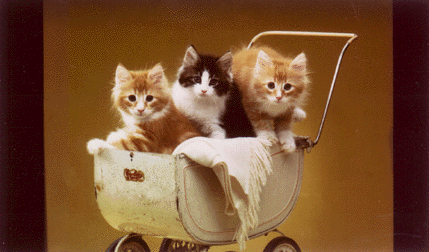 ---


We made this web site:


May 1st, 1998

Hisako IMAIZUMI (forest-c@jasmine.ocn.ne.jp)
Breeder, Owner of the "cattery AZURE BLUE"

It was more than seven years ago when I first met NORWEGIAN FOREST CAT (NFC) in a book. Until then, I've had no interests to pure-bred cats though I'd lived with cats and loved them. But at first sight, NFC charmed me. The book said NFC was a rare cat, and I didn't know whether there were any breeders or not. I dreamed of living with NFC, but it was just a yearning to me who was young and just started to work as a nurse (animal health technician) of a veterinary hospital.
While I was working at a veterinary hospital, I met many kinds of pure-bred cats. Most of them were living happily with their family, but some of them were not. Very small kittens that have been sold at an irresponsible pet shop before 60 days from their births. The result of excessive inbreeding, born weak, became crooked, such poor cats...
Then, an idea came to my mind.
- Maybe I can breed better cats, more healthy and more amiable, only if I do my best. -
And I thought of that special cat to me, NFC.
Four years has passed since my first NFC has come to me. Now I'm living with ten NFCs and a Japanese cat.
As a breeder and a cat fan, there're a lot of things to learn. I'm going to breed healthy amiable NFCs. And I hope many people know and love that pretty cats!

*

Nahoko NAKAMURA (forest@cat.email.ne.jp)
Just a cat (and Mac) fan

In fall of 1996, my sweet boy NORUTA (AZURE BLUE YALE BOY) came to me from the "cattery AZURE BLUE". Since then, I've been crazy for NORWEGIAN FOREST CAT! Also, Hisako and I became very good friends. We talk about cats almost every day (on the long-distance line!). And one day we decided to make this web site.
I also opened my own web site "Mori no Nekoya no Neko Aru Kurashi - Enjoy living with cats!". You can meet NORUTA and MAO, Hisako's Japanese cat there. Awaiting for your visit!
---

---